Autumn brings a spectacular transformation to our gardens. The leaves change color, the air becomes crisp, and the garden takes on a warm and cozy ambiance. It's the perfect time to embark on DIY projects that enhance the beauty and functionality of your outdoor space. In this comprehensive guide, we'll explore a variety of fall garden projects, from seasonal decor to practical additions, that will make your garden a haven for relaxation and enjoyment during the fall season. The following content also has some reference value for raised garden beds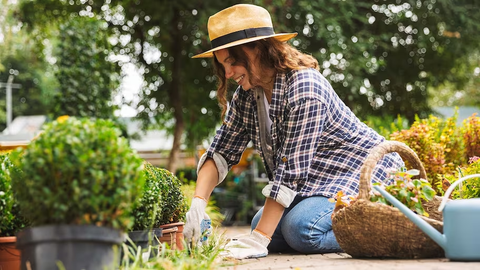 .
The Beauty of Fall in Your Garden
Before we delve into the projects, let's take a moment to appreciate the unique charm of fall in your garden: 
Vibrant Foliage
The leaves on your trees and shrubs turn brilliant shades of red, orange, and gold, creating a stunning natural display.

 
Cooler Weather
The crisp, cooler air of fall makes spending time outdoors more comfortable, allowing you to fully enjoy your garden.

 
Harvest Bounty
Fall is a time of abundance with fruits, vegetables, and nuts ready for picking in your garden.

 
Cozy Atmosphere
The season invites you to create a cozy and inviting atmosphere with blankets, warm beverages, and seasonal decor.

 
Now, let's explore some creative projects that will help you make the most of this beautiful season. 
1. Harvest-Themed Wreath
A DIY wreath is a wonderful way to welcome guests to your garden. Create a harvest-themed wreath using materials like colorful fall leaves, pinecones, and mini pumpkins or gourds. You can attach these elements to a wreath form using a hot glue gun or wire. Hang the wreath on your garden gate, front door, or fence to add a touch of seasonal charm. 
2. Leaf-Motif Stepping Stones
Transform plain garden stepping stones into works of art by adding a leaf motif. Collect various leaves from your garden, choose ones with interesting shapes and textures, and place them on the stepping stones. Apply a layer of concrete or plaster mix over the leaves and smooth it out. Once it dries, remove the leaves to reveal beautiful leaf imprints. These decorative stepping stones can be placed along garden paths or nestled among your plants. 
3. Fall Flowerbed Borders
Enhance the borders of your flowerbeds by incorporating seasonal elements. Collect pinecones, small branches, and twigs from your garden. Paint them in autumnal colors like deep red, burnt orange, and golden yellow. Arrange these painted elements along the edges of your flowerbeds to create charming borders that add a pop of fall color. 
4. Pumpkin Planters
Repurpose pumpkins as planters to showcase your favorite fall flowers. Simply cut off the tops of small to medium-sized pumpkins, scoop out the seeds, and fill them with potting soil. Plant flowers like chrysanthemums, pansies, or ornamental cabbage in the pumpkin planters. These festive and temporary additions can be placed on tables, steps, or scattered throughout your garden. 
5. Twig Garden Lanterns
Craft garden lanterns with a rustic touch by using twigs from your garden. You'll need a glass jar or votive holder and a collection of small twigs. Apply craft glue to the twigs and attach them vertically to the outside of the jar. Once the glue dries, place a tea light or LED candle inside the jar. These lanterns create a warm and enchanting ambiance as dusk settles in your garden.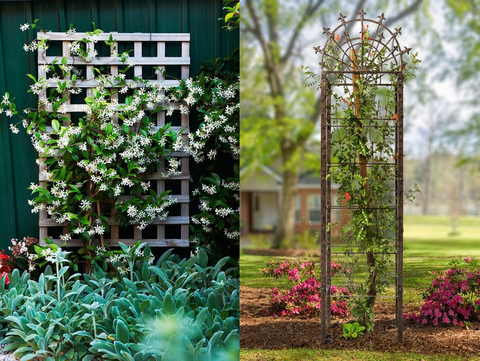 6. DIY Bird Feeders
Fall is a great time to attract and feed birds in your garden as they prepare for the colder months ahead. Create your own bird feeders using materials like pinecones, peanut butter, and birdseed. Spread peanut butter onto pinecones and roll them in birdseed. Hang these feeders from tree branches or hooks, and watch as the birds flock to enjoy the treats you've provided. 
7. Leaf-Imprinted Garden Stones
Add a personal touch to your garden by making leaf-imprinted garden stones. Select large, flat stones and thoroughly clean and dry them. Apply a layer of concrete mix to the top surface of the stone. Press fresh fall leaves, vein-side down, into the concrete. Allow it to dry and set before removing the leaves. You'll be left with unique garden stones featuring the intricate imprints of fall leaves. 
8. Autumnal Garden Bench
Give your garden bench a fall makeover by adding cozy cushions and throws. Choose cushions in warm, earthy colors and complement them with soft throws in plaid or autumn-inspired patterns. These additions not only make your garden bench more inviting but also provide comfort as you relax and soak in the beauty of the season. 
9. DIY Fire Pit
Extend your outdoor gatherings into the cooler fall evenings by building a DIY fire pit. You can create a simple fire pit using bricks or pavers. Dig a shallow hole, place the bricks in a circle, and secure them with mortar. Add a fire grate or a metal bowl to contain the fire. Gather around the fire pit with friends and family for cozy evenings filled with warmth and conversation. 
10. Herb Garden Windowsill Planter
Extend your herb garden into the fall by creating a windowsill planter. Choose a rustic wooden planter box and fill it with your favorite herbs like rosemary, thyme, and sage. Place the planter on a sunny windowsill in your garden-facing kitchen, making it convenient to snip fresh herbs for your fall recipes. 
11. Fall-Inspired Centerpiece
Craft a stunning centerpiece for your outdoor dining table using fall foliage and seasonal flowers. Arrange a mix of colorful leaves, dried hydrangeas, and small gourds or mini pumpkins in a decorative container or vase. This eye-catching centerpiece will be the focal point of your outdoor dining experience. 
12. Homemade Garden Sign
Add a personal touch to your garden with a homemade sign. Create a wooden garden sign using reclaimed wood or purchase a plain wooden sign from a craft store. Paint it with a fall-themed message or design, such as "Welcome to Our Autumn Oasis" or "Harvest Blessings." Place the sign near the entrance of your garden to greet visitors with a warm and inviting message. 
13. DIY Garden Art
Get creative and design your own garden art to adorn your outdoor space. Consider crafting wind chimes, mosaic stepping stones, or whimsical sculptures using materials like glass tiles, ceramic pieces, or repurposed items. Your unique garden art pieces will add a touch of personality and whimsy to your fall garden.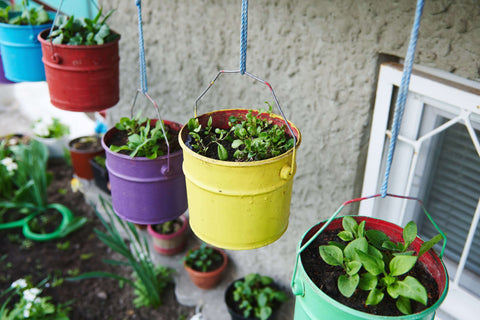 14. Garden Tool Storage Shed
If you're looking for a more substantial project, consider building a garden tool storage shed. A shed provides a dedicated space to store your gardening tools, equipment, and seasonal decor. You can design the shed to complement the style of your garden and even incorporate a potting bench for added functionality. 
15. Fall Vegetable Garden
Take advantage of the fall season by planting a variety of cool-weather vegetables and herbs in your garden. Options like kale, Swiss chard, lettuce, and cilantro thrive in the cooler temperatures of fall. Create designated raised beds or containers for your fall vegetable garden, and enjoy the satisfaction of harvesting fresh produce well into the autumn months. 
Tips for Successful Fall Garden Projects
Before you start your fall garden projects, keep these tips in mind for a successful and enjoyable experience: 
Plan Ahead
Before you begin any project, plan out your ideas, gather materials, and create a timeline to ensure everything runs smoothly.

 
Safety First
Take safety precautions when using tools and materials. Wear appropriate safety gear, especially when working with concrete, paints, or power tools.

 
Involve Friends and Family
Many fall garden projects are enjoyable to do with loved ones. Enlist the help of family members or friends for a fun and collaborative experience.

 
Embrace Creativity
Don't be afraid to add your personal touch to each project. Let your creativity shine through in the design, colors, and materials you choose.

 
Enjoy the Process
Remember that the journey is just as important as the end result. Take your time, enjoy the process, and savor the moments spent in your garden.

 
Conclusion
Fall is a magical time in the garden, and with these DIY projects, you can enhance the beauty and functionality of your outdoor space while embracing the spirit of the season. Whether you're creating decorative elements, adding practical features, or simply enjoying the process of crafting, these fall garden projects will make your garden a place of enchantment and relaxation during the autumn months. So, gather your materials, unleash your creativity, and let the beauty of fall shine in your garden. Happy crafting!