As the crisp breeze of autumn rolls in and leaves turn shades of gold and crimson, there's no better time to savor the beauty of your garden and embrace the joy of al fresco dining. While many associate outdoor dining with the warmer months, fall offers a unique charm with its cozy ambiance and bountiful harvest. In this comprehensive guide, we will explore the art of setting the perfect fall table in your garden and share tips on how to prepare your outdoor space for a memorable al fresco dining experience. The following content also has some reference value for raised garden beds.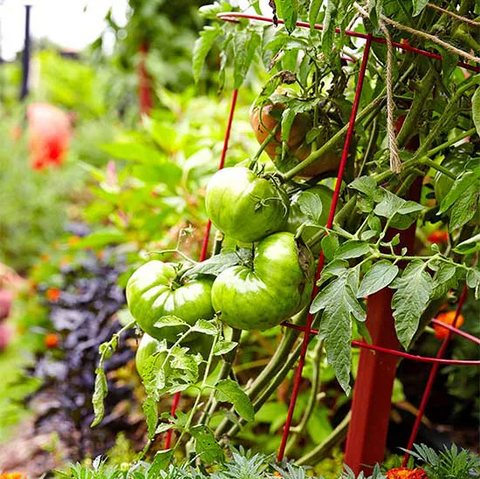 The Beauty of Fall Al Fresco Dining
Fall brings a symphony of colors and flavors to your garden, making it an ideal backdrop for outdoor gatherings. Here's why fall al fresco dining is so special: 
Stunning Scenery:
The vibrant foliage and soft, diffused sunlight create a picturesque setting that's perfect for a relaxed and elegant meal.

 
Mild Temperatures:
With cooler temperatures, you can enjoy the comfort of your garden without the sweltering heat of summer or the chill of winter.

 
Abundant Harvest:
Fall is a season of harvest, and your garden is likely brimming with fresh produce and herbs that can be incorporated into your dishes.

 
Cozy Atmosphere:
As the sun sets earlier, you can set the mood with cozy lighting, blankets, and warm beverages, creating an intimate and inviting atmosphere.

 
Preparing Your Garden for Fall Al Fresco Dining
To fully enjoy fall al fresco dining, it's essential to prepare your garden. Here are the steps to ensure your outdoor space is ready for a perfect dining experience: 
Clean Up Your Garden:
Start by tidying up your garden. Remove fallen leaves, weeds, and any debris that may have accumulated. A well-kept garden sets the stage for an inviting dining area.

 
Choose the Right Location:
Select a suitable spot for your dining area. Consider factors such as proximity to your kitchen, the best view of your garden, and natural shade or shelter from wind.

 
Garden Furniture and Decor:
Invest in comfortable and durable outdoor furniture. Opt for pieces that are easy to clean and store during inclement weather.

 
Table Settings:
Choose tableware and accessories that complement the fall season. Earthy tones, rustic textures, and natural materials like wood and ceramics work beautifully.

 
Create Ambiance:
Enhance the atmosphere with lighting. String lights, lanterns, and candles in hurricane vases provide a warm and inviting glow as the sun sets.

 
Weather Considerations:
Since fall weather can be unpredictable, have a plan for sudden rain or chilly evenings. Keep a stash of cozy blankets or shawls for guests, and consider a pop-up canopy or umbrella for shelter.

 
Harvest Decor:
Incorporate the bounty of your garden into your decor. Pumpkins, gourds, and colorful fall foliage can adorn your table or create charming centerpieces.

 
Crafting a Fall-Inspired Menu
The heart of any dining experience is the food, and fall offers a wealth of seasonal ingredients and flavors to incorporate into your menu. Here are some ideas for crafting a fall-inspired feast: 
Appetizers:
Roasted Pumpkin Soup:

Start with a velvety and comforting pumpkin soup garnished with toasted pumpkin seeds and a dollop of crème fraîche.

 
Apple and Brie Crostini:

Slice apples and brie cheese onto crusty baguette slices, then drizzle with honey and sprinkle with chopped rosemary.

 
Main Course:
Roast Chicken with Root Vegetables:

Season a whole chicken with herbs and roast it alongside carrots, parsnips, and potatoes. The aroma alone is heavenly.

 
Stuffed Acorn Squash:

Hollow out acorn squash and stuff it with a mixture of wild rice, cranberries, pecans, and herbs.

 

Side Dishes:
Mashed Sweet Potatoes:

Whip sweet potatoes with butter, brown sugar, and a touch of cinnamon for a delightful side dish.

 
Brussels Sprouts with Bacon:

Roast Brussels sprouts with crispy bacon and finish with a drizzle of balsamic glaze.

 
Salads:
Harvest Salad:

Combine mixed greens with sliced apples, candied pecans, dried cranberries, and crumbled goat cheese. Drizzle with a maple vinaigrette.

 
Kale Caesar Salad:

Use hearty kale leaves instead of romaine for a robust Caesar salad with homemade dressing and shaved Parmesan.

 
Desserts:
Apple Crisp:

A warm apple crisp with a buttery oat topping is the quintessential fall dessert. Serve with a scoop of vanilla ice cream.

 
Pumpkin Pie:

No fall meal is complete without a classic pumpkin pie topped with whipped cream or vanilla custard.

 
Beverages:
Mulled Cider:

Warm up with mulled apple cider infused with cinnamon, cloves, and orange slices.

 
Spiced Chai Latte:

Serve a comforting chai latte with a sprinkle of nutmeg for a soothing drink option.

 
Setting the Perfect Fall Table
The table setting plays a crucial role in creating a memorable dining experience. Here are some tips for setting the perfect fall table: 
Tablecloth and Linens:
Choose a tablecloth or table runner in warm, autumnal colors like deep red, burnt orange, or rich brown. Linen napkins in complementary shades add a touch of elegance.

 
Tableware:
Opt for rustic or vintage-inspired dinnerware with earthy tones and textured finishes. Mix and match plates, bowls, and chargers for a charming, eclectic look.

 
Centerpiece:
Create a striking centerpiece using fall elements like pumpkins, pinecones, and autumn leaves. Place it in a wooden crate or on a wooden tray for added rustic charm.

 
Place Settings:
Use place cards with handwritten names to add a personal touch. Consider incorporating small seasonal accents like mini pumpkins or pine sprigs.

 
Glassware:
Crystal or amber-tinted glassware complements the fall color palette. Offer wine glasses, water goblets, and champagne flutes for versatility.

 
Utensils:
Arrange flatware in the order of use, from the outside in. A polished bronze or gold finish adds warmth to the table setting.

 
Candles and Lighting:
Enhance the ambiance with candles or tea lights in varying heights and sizes. Place them in hurricane vases or lanterns to protect the flames from the breeze.

 
Fall Al Fresco Dining Etiquette
As you gather with loved ones in your garden for a fall al fresco meal, it's essential to observe good dining etiquette: 
Seating Arrangements:
Consider the comfort and preferences of your guests when arranging seating. Ensure everyone has a clear view of the beautiful garden.

 
Table Conversation:
Encourage engaging conversation by preparing some icebreakers or discussion topics related to the season.

 
Mind the Weather:
Be prepared to adjust your plans if the weather takes an unexpected turn. Have a backup indoor space or a covered area available.

 
Gratitude:
Express your gratitude to your guests for joining you in your garden. A heartfelt thank-you goes a long way toward making your gathering memorable.

 
Clearing Dishes:
If you're serving a multi-course meal, clear dishes between courses to maintain an organized and pleasant dining experience.

 

Conclusion
Fall al fresco dining in your garden is an enchanting experience that celebrates the season's beauty, flavors, and the joy of sharing a meal with loved ones. By preparing your garden, crafting a fall-inspired menu, and setting an inviting table, you can create lasting memories while savoring the bounty of the season. 
So, embrace the autumnal magic, gather your favorite people, and set the perfect fall table in your garden. With the backdrop of colorful foliage and the warmth of delicious food, you'll create an al fresco dining experience that lingers in your heart long after the last leaf has fallen.