Raised garden beds have several practical benefits, including the ability to control soil composition more easily and access your plants more easily. But a raised bed can be stylish and practical. The only real rule in gardening is to use your imagination to create raised beds that complement the landscape. The following content also has some reference value for raised garden beds.
The raised beds above, or examples of kitchen gardens, show the orderly, formal design that these beds can bring to the setting. Simple wood frames constructed from preservative wood have provided many years of success. Raised beds are suitable for intensive gardening techniques such as interplanting, continuous planting and square foot gardening. Continue to see more garden bed ideas.
Convex rise in landscape design
The beauty of a loft bed is that it can be used as a design element in a garden. Garden designer P. Allen Smith has incorporated formal elevated vegetable beds into the landscape at his Garden House in Little Rock, Arkansas.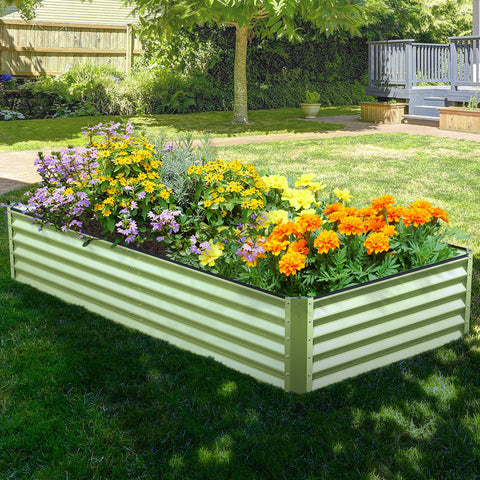 Woven wicker gives a rustic English garden look
There are a variety of materials that can be used to build a raised garden bed, such as woven wicker, to give a rustic English garden look.
Informal stone bed
An informal stone raised bed design features individual boulders stacked and installed to create a base for a productive garden. This hummock-shaped garden displays a raised rise known as hugelkultur(" mountain culture "in German). Plants in giant beds reach maturity faster than those in traditional beds and require less watering.
Raised bed in summer
Raised garden beds can be made of chemical-free wood, stone, rock or composite or recycled materials. They are usually bottomless squares or rectangles that sit on top of soil that has been cleared of weeds, grass, rocks and branches. Because you can easily modify the soil in them, they provide good drainage and ventilation for plant roots. If you're buying a kit, opt for an attached trellis or a built-in irrigation system.
Metal has a modern feel
The metal loft bed is cleverly integrated into the modern style of the landscape. Any metal is durable and carefree, and this one features a steel product called zincalme that lasts four times longer than galvanized steel. This particular design provides a curved edge aesthetic that softens the hard appearance of corrugated metal.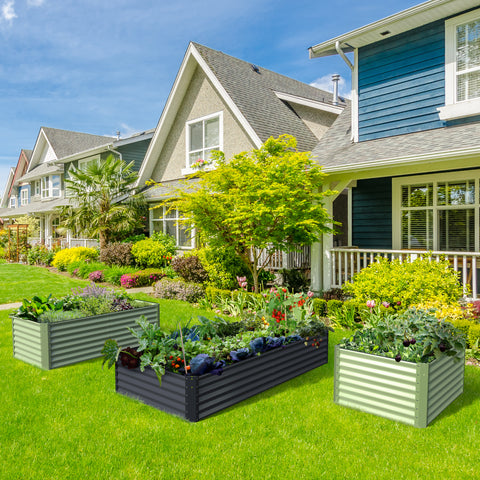 Put the bed high
By injecting vertical interest, high raised beds can make a small yard look larger. The taller beds make plant maintenance less painful by eliminating the need to bend over to tend to the underground ones.
Grow up in a nurturing bed
Using the frame of a raised bed as a building platform to place a trellis, you can store climbing flowers or edible items such as snow peas in your garden. The frame of the raised bed provides a variety of options for additional accessories such as floating row covers, frost blankets or mesh fencing to deter animals.
Wall-Hugger plantation owner
The wall-hugging nature of this pot makes it a good choice for gardens in sall Spaces, where every square inch requires hard work. Fold the vegetable tapestry along a wall or fence to avoid bending when planting or weeding. Plant the taller crop on the flat side of the planter and the shorter crop in front.
Sit down
Red cedar plays a lasting role in the flower beds of the garden. The bed has a handy bench and is just the right height for perching next to the bed and caring for plants in the garden. The bench has a wide lip that hooks over the edge of the bed to provide stable seating. It is also portable and small enough to be picked up and carried to another spot along the raised edge of the bed.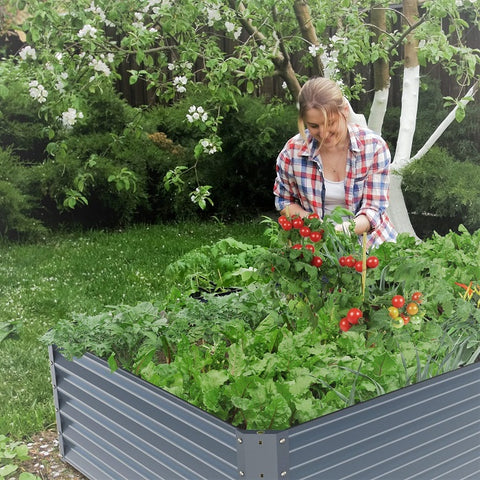 Box the garden
Oversized red cedar boxes allow you to create a custom raised bed garden design. Five boxes of different sizes as part of a set. Arrange planter boxes in the design to make the best use of your planting area, sunlight or patio shape. Durable cedar is resistant to rot and is an ideal material for raised bed planting.
Straw bed
Make a fully compostable loft bed out of straw bales. Straw beds bring many benefits to the landscape. They are inexpensive and offer temporary bed solutions. After the gardening season is over, straw bales can be easily used as winter mulch or converted into layered material to create a lasagna garden.
Wheelbarrow bed
Use a loft bed tall enough to embrace painless gardening so it doesn't bend over when tending. This elevated trolley garden offers 12 square feet of planted area, including a pocket deep enough to grow tall crops such as tomatoes. Stack shorter plants, such as lettuce and radishes, along your bed.
Raised bed watering
Using a soaking hose on a raised bed can be tricky. Often, when the hose snakes across the bed, parts of it can soak the sidewalk. The drip immersion hose system allows you to trim the immersion hose to a length suitable for the raised bed. Once the hose is cut, snap the connector in place and turn on the faucet.
Quadrant design
A quarter elevated garden bed keeps fresh vegetables just steps away from the Mediterranean home's kitchen. In the middle is a star-shaped bed that is both practical and stylish.
Colorful elevated bed
When raised beds are made of UV-resistant polypropylene, they inject bold color into the landscape all year round. Plastic beds last a long time and are not as perishable as wood beds. Just be sure to choose UV-stabilized materials to prevent rapid decomposition from sun exposure. The above design features easy interlocking corners.
High bed garden in front yard
If designed properly, a raised bed can even be used as a design element in the front yard. A wall covers and organizes this Atlanta-area raised bed garden. The central raised bed is surrounded by a built-in narrow bed, perfect for growing vegetables to take advantage of the vertical space. 
A neat kitchen garden
This neat, compact high-bed kitchen garden is all you need to add fresh ingredients to your recipes. Your kitchen garden can be elaborate as a large plot of land with lots of raised beds and trellises, or it can be as simple as a few flower POTS on a sunny balcony. As long as you have an area where you can get five or six hours of sunlight (hopefully near the kitchen, hence the name), the soil is well modified, or have a good potting medium, and are committed to the process, your garden will thrive.
A raised bed to keep animals out
A 13-1/2-inch-high fence surrounds this 20-inch-high garden bed to help deter dogs and rabbits. The front fence board is hinged so you can get into the 3ft x6ft bed to tend or harvest your plants.
The stone bed is enduring
Stacked stones provide a durable bed that does not rot even when exposed to wet soil. The stone absorbs heat and radiates it into the raised soil, allowing you to plant earlier in the spring and grow crops longer in the fall.
Loft bed with steps
Consider adding up your nursery of shrubs and other plants when installing steps to your yard, porch, or doorway. In this design by Kane Landscape, the fountain adds a pleasing sound to the environment.
Herb bed
Diane LaSauce, a Virginia horticulturist and author of the popular blog home, garden, life, grows French tarragon, chives, parsley and other herbs on round raised beds made of shaped paving stones bought from home improvement stores. She uses a sturdy pitchfork to dig 12 inches deep in the center of each round bed, plus new topsoil. Pea gravel on top of a landscape cloth that keeps out weeds makes her bed look neat.
A cot with a cattle stall
Gardening blogger Diane Lassos also designed two 5-foot-by-12-foot raised beds and added cattle boards so the vines can grow vertically. "The cow board is prefabricated, galvanized steel wire board... Can be easily shaped into curves to suit garden use... They should also last for years. Fast, easy and affordable, "she said. LaSauce grows heirloom catnip in a smaller bed. Other bedding plants include fennel and dill, which are host plants for swallowtails. Her bucket collects rainwater.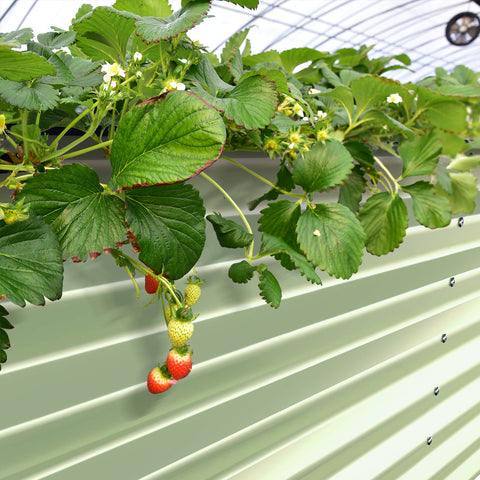 African Keyhole Garden Bed
Keyhole gardening comes from arid parts of Africa. This keyhole bed has a tunnel in the center, so you can compost kitchen leftovers to help provide moisture and nutrients for your plants. The bed is extruded from a food grade, bisphenol A free polymer. For every four beds sold, Weta Gardens builds a high-performance keyhole bed in Rwanda.
As a retaining wall for convex rise
Raised beds don't need to grow flowers or vegetables. They are also useful for shrubs. Retaining walls at the front of the house are used to create raised beds that help to add visual interest and bring plants to scale. The design, which was created by Kane Landscapes, also creates a shortcut from the door to the driveway.
Wraparound raised rise
This wraparound garden bed has it all: a foldable, hinged trellis for climbing plants, 33-inch-high fence panels that keep pests out and act as extra trellis, and a door so you can easily reach your plants. It is sold as a kit with an optional automatic watering system.